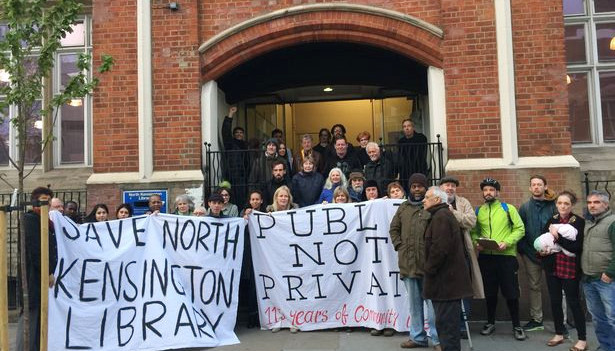 about
Posted Fri 15 Oct '21
North Kensington Library campaign group was set up in objection to the council's decision to lease the historic Library building on Ladbroke Grove to a private school. Our main concern is to keep the Library Building in public use.
We have questions about the decision to lease the building in the first instance; the process by which the lease was offered to the school; and the council's reading of the law in relation to community value.
We see the Library in the context of a broader council agenda to divest themselves of public assets in the interests of private investors. We see their preference to consolidate services on larger single sites as motivated by a lack of fundamental commitment to the public sector rather than an interest in accessible and high quality services to the community.
Memorandum of Understanding
The Friends of North Kensington Library co-wrote a public statement of commitment to the Library signed by:
Cllr Elizabeth Campbell, Leader of the Council
Cllr Kim Taylor-Smith, Deputy Leader of the Council
Cllr Catherine Faulks, Lead member for Skills and Enterprise
Cllr Robert Atkinson, Leader of the Labour Group
Cllr Monica Press, Councillor for Colville Ward
Barry Quirk, Chief Executive
Sue Harris, Executive Director for Environment and Communities
Rt Hon Nick Hurd MP, Minister for Grenfell Victims
Use Our Library
Libraries are an important social space for communities - story telling, presentations, art instalations, reading groups, and spoken word events are some of the type of activities that happen at the library. If you have an idea for an activity that you would like to run or see happen at the Library, please do contact the Library, and let us know too via our social media platforms or our web form.